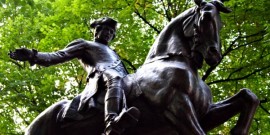 Below is a great article about famous dentists! Thanks for visiting us at Shoreline Endodontics of Groton, CT. 
Who says dentistry isn't exciting? Our noble profession has captured the hearts and imaginations of some pretty interesting people over the years. Granted, eventually these folks turned to other less fascinating professions—like acting, gun fighting, inventing, painting and saving the country—but still, they all had their "roots" (pardon the pun) in the enviable art of dentistry. Just check out this list of people you didn't know were dentists:
Edgar Buchanan: This popular character actor started out as a successful dentist before moving to California in 1939. Although he co-starred in countless movies over the years, Buchanan was probably best known for his memorable roles in 1960s sitcoms like "Petticoat Junction," "Green Acres" and "The Beverly Hillbillies." Once he was bitten by the acting bug, he left dentistry. But, interestingly enough, his wife actually took over his successful practice after he retired.
John Henry "Doc" Holliday: You may remember Doc Holliday for his friendship with Wyatt Earp and their famous gunfight at the O.K. Corral, but Holliday was actually a dentist who was trained in Pennsylvania and developed a booming little practice in Atlanta. After a short time, Holliday contracted tuberculosis and he was forced to leave his practice and move out West, where the rest is, well…history.
Mark Spitz: Many of us know Mark Spitz from his record-breaking 7 gold medals won during the 1972 Olympic Games. What you may not know is that Spitz was actually accepted into dental school earlier on, but he decided to pursue his Olympic swimming career instead.
Continue reading about more famous dentists HERE.
Related posts