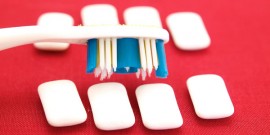 Worried that chewing gum is bad for your teeth?  Well, good news, it actually can be quite good!  Read more below and thank you for visiting Shoreline Endodontics, Groton, CT.
Chewing gum has been associated with oral benefits such as fighting caries and increasing salivary flow. Now a new study has found that it can remove bacteria from the oral cavity.
In fact, chewing gum may remove as much bacteria as brushing without toothpaste or flossing, according to the authors of the study, which was published in PLOS One(January 20, 2015) and funded by Wrigley.
"This study was initiated as a method development study to determine the number of bacteria that are trapped in a piece of sugar-free gum," said study author Stefan Wessel, a doctoral candidate from the department of biomedical engineering at the University of Groningen and University Medical Center Groningen in the Netherlands, in an interview with DrBicuspid.com.
"According to our knowledge, this is the first time that an estimate of the number of bacteria trapped in a piece of chewed gum is determined," he said.
For their research, Wessel and colleagues included five healthy volunteers from the department of biomedical engineering and asked them to chew two types of commercially available sugar-free chewing gums for varying amounts of time up to 10 minutes.
"We discuss [in the study] that by targeting different areas in the mouth, sugar-free chewing gum removes comparable amounts of bacteria to those removed by flossing and a clean toothbrush without toothpaste," Wessel said. "This was done for perspective only and not meant to compare effectiveness of both techniques."
Continue reading HERE:
Related posts